Commissions
Making site specific artworks for clients is one of the most exciting areas of my making practice. It is an honour and a privilege to be asked.
Each space has so much potential.  Some clients want artworks that pop the space, making it come alive.  Other spaces are for contemplation and digestion.
I find it very inspiring to be in a space that is calling for something above and beyond traditional artwork.
When I am invited to create for these spaces, it goes without saying that I am working with intelligent & open minded people who are looking for unique, statement pieces.
I love the challenge of hearing what is needed, then offering a selection of possibilities.
As a fibreartist, I have been making commissions since 1996.  I have created hundreds of works for resorts, hospitals, private and public businesses, galleries and private spaces.
I work with interior architects, interior designers and individuals.
My unique style has allowed me to develop more than just an in-depth knowledge of materials and techniques, I have also developed unique installation techniques that allows my work to float, sit, hang and merge with spaces.
I look forward to engaging with each new client and creating art that works in the individual space.
Title: Shelleys Mandala Nook
Date: 2018
Material: Bangalow inflorescence
Size: approx 2.5m x 5.5m
Title: Shelleys Mandala Nook
Date: 2018
Material: Bangalow inflorescence
Size: approx 2.5m x 5.5m
Title: Shelleys Mandala Nook
Date: 2018
Material: Bangalow inflorescence
Size: approx 2.5m x 5.5m
Title: Sacred Sun for Brooke and Davids Stairwell
Date: 2018
Material: Bangalow inflorescence and jute
Title: Brooke and Davids Stairwell
Date: 2018
Material: Bangalow inflorescence
Title: Anne Marie and Blakes Wall Necklace
Date: 2017
Material: Bangalow infructescence and jute
Size: 1.5m sq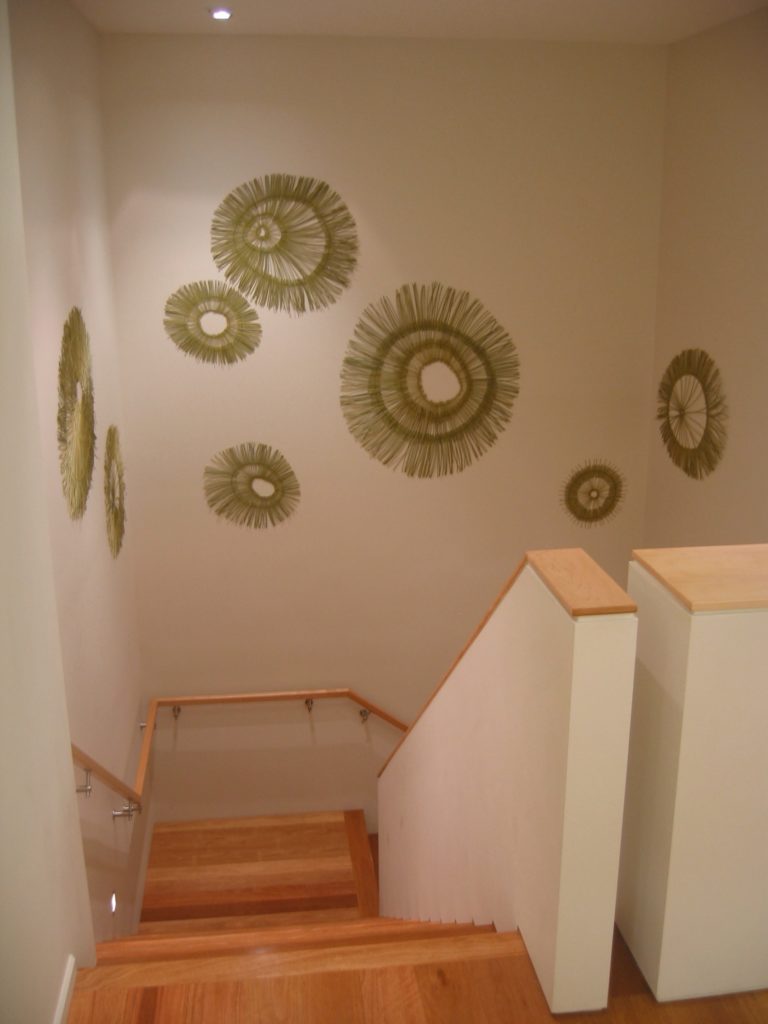 Title: Urchins in the Stairwell
Date: 2006
Material: dyed cane and jute
Size: 5.5m x 3m (whole wall)
Title: String Kelp
Date: 2006
Material: fishing Line
Size: 2.5m x 1.2m
Title: Metal Lomandra
Date: 2005
Material: painted metal
Title: Leaf
Date: 2005
Material: cane
Title: Jacaranda Line
Date: 2005
Material: Jacaranda rachis, jute & red earth
Title: Star Bursts
Date: 2005
Material: Jacaranda rachis, hemp twine & red earth
Size: 3m x 1.2m (wall)
Title: Leaf Line up
Date: 2005
Material: cane
Title: Leaf Flow
Date: 2005
Material: cane
Title: Dispersion
Date: 2006
Material: Bangalow inflorescence
Size: 7m x 4.5m
Title: Bangalow Flowers
Date: 2005
Material: Bangalow inflorescence