My Practice
I have a daily practice that I have been 'doing' since 2008.  This consists of at least one work, my signature piece, that I create every morning, on the beach, as the sunrises.
Between 2012-2016 I created an additional piece in the forest, also on a daily basis. These works were added to or removed by a small group of forest walkers who knew the 'post-box tree'. It was a forest message to say 'Hi', letting the other walkers know who had been through. It became a point of conversation when we actually did see each other and was something to look forward to as we walked the path.
Any other work that I create is inspired by what is happening and where I am at any particular moment.
I do not photograph my work as I have a preference to be in nature without any devices.  Any photographs from any of the events I have facilitated are generally taken by other people and shared with me.
I have been facilitating ephemeral art events since 1999. The first event was a beach exhibition for the International Basketmakers Gathering (which I also organised).
I continue to facilitate for schools groups, for organisations and privately run events.
Beach Gatherings
Over a 2 1/2yr period I organised and co-ordinated ephemeral art gatherings on the beach for the local art group PAN.
The gatherings were conducted on a fortnightly basis in Spring and Autumn in conjunction with the low tide, on one of the many beaches in Byron.
These gatherings were open to all….those who were walking along the beach at the time, or those interested and responsive to the public invitation.
Each gathering had a theme:
Fish, Feathers, Flowers, Circles and so forth. However, the main object was to play with whatever was on offer as long as it was natural and non toxic.
The events would last for about 3 hours and then would be washed away by the incoming tide.
Efemera
In 2004 I instigated and co-ordinated a group of 4 local Byron women that we called Efemera. We gathered weekly to make and organise art-bombing events.  Some of these events took months of preparations, such as the project 'How Long is a piece of String'.
For this 8 month project we went to schools, nursing homes, public markets and tourist landmarks to teach people how to make string from cloth and waste material. Eventually we had a huge ball of string which we unravelled from the Byron Lighthouse, down the stairs.  Approx 3.85km's worth.
We made a giant shopping trolley out of sticks and dropped it at Main Beach for an hour, then took it to the Byron Writers Festival for a day…..it then collapsed and became firewood.
Ephemeral Art is such a large umbrella for many art forms. It is play, contemplation, meditation and can be 'done' without intention or knowing it is being 'done'.
I don't know when it started but I believe that it has a bigger and broader history than I can contemplate.  I often think of the beginnings of the Japanese art of Ikebana….
In the '60's & '70's  the Land Art movement bought it back into focus.
In recent times we have the artists that have popularised it, including; Richard Long, Chris Drury, Andy Goldsworthy and now there are many practitioners making it a daily practice.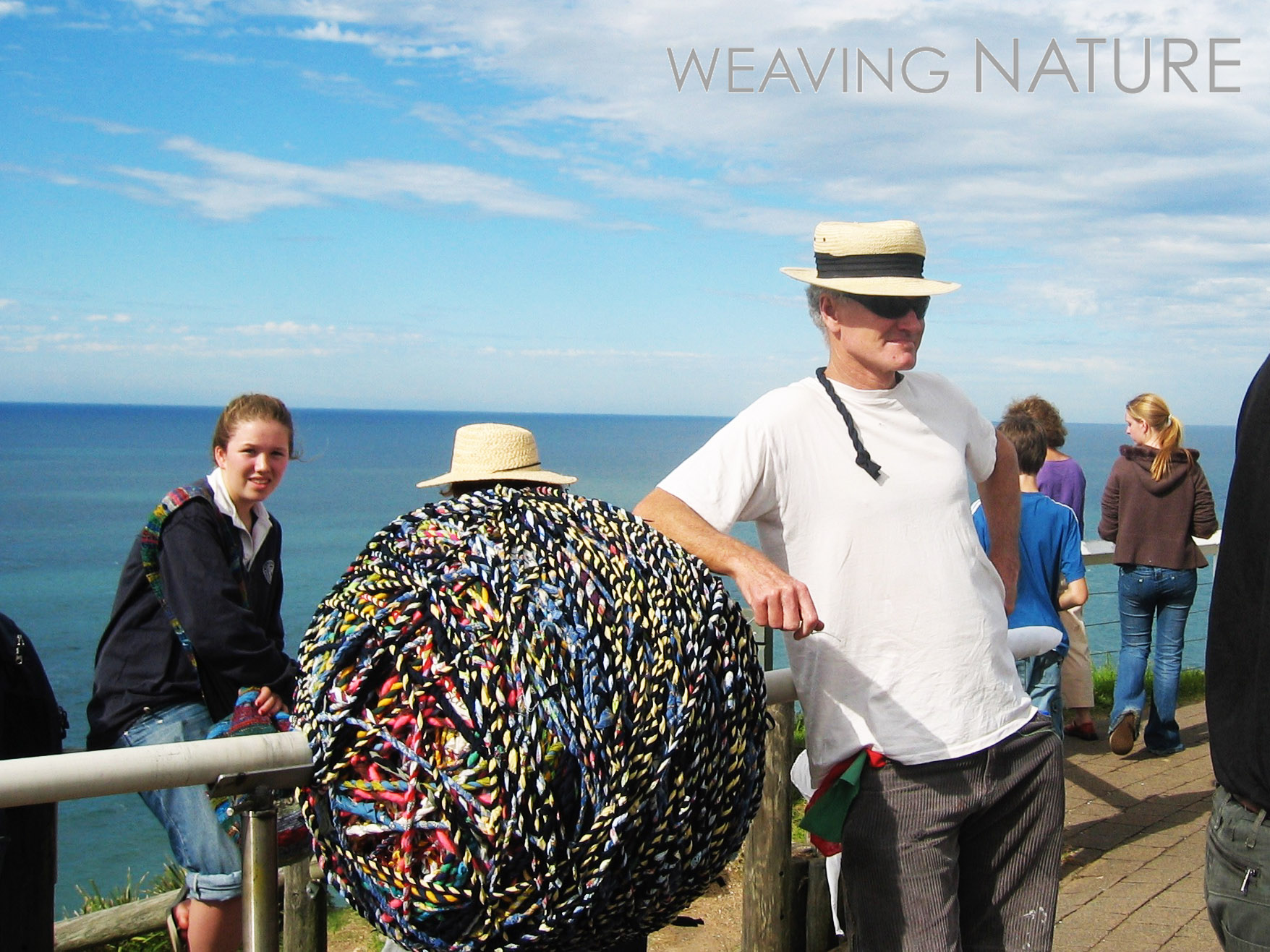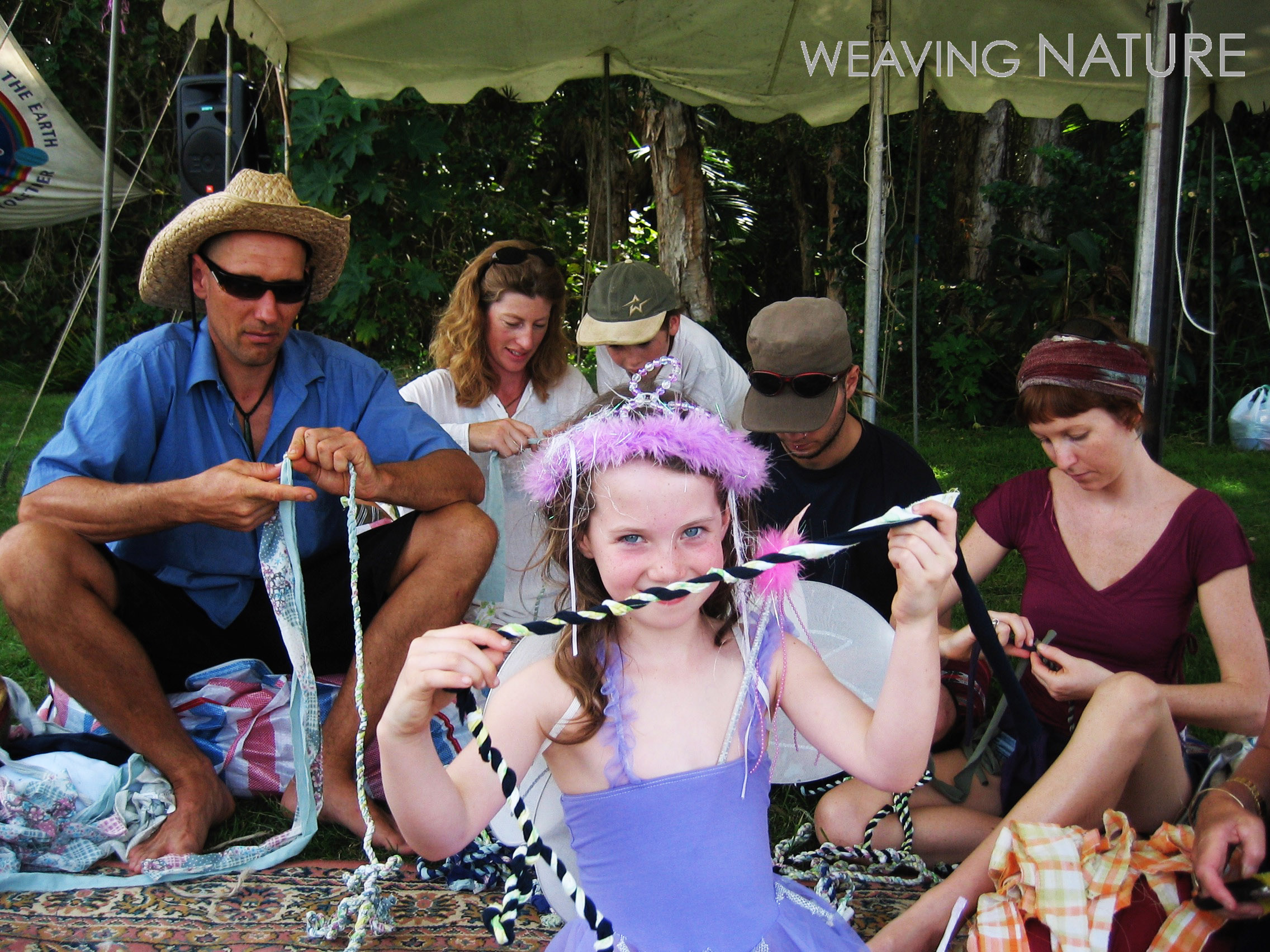 How Long is a Piece of String was a 6month long project run by the group Efemera (4 Byron women). We went into schools, retirement villages, local markets and public spaces all over the shire, including the lighthouse, teaching people how to make string. We used found or rejected clothing and cloth material, joining it together into a ball. Our intention was to measure this piece string by rolling it down the footpath at the Cape Byron Lighthouse. We didn't use any formal measuring tools, but guestimated that it was 3.85km long….so now we know 'how long is a piece of string'