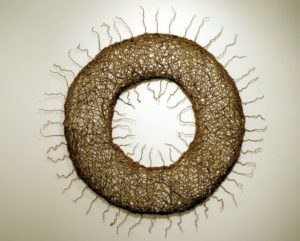 ZIMMI FOREST
(formerly known as MELISSA HIRSCH)
SOLO EXHIBITIONS
2018 Conversations with the SUN BalmainSpace. Sydney (May-June)
2007 Nature Girl Nature Boy Tweed River Art Gallery. Murwillumbah NSW (Oct -Nov)
2007 De natured 24HR Art.  Darwin (May – June)
2006 De natured Brenda May Gallery.  Danks St Sydney (Nov)
2004 Precious Ocean Cape Gallery Byron Bay (Oct)
2003 Organica Botanica John Gordon Gallery Coffs Harbour (Oct – Nov)
2002 FLOW Coffs Harbour Regional Art Gallery. (Jun-Jul)
2000 Conversation in – Forms Grafton Regional Gallery. (Jan-Feb)
SELECTED EXHIBITIONS
2018
BrunswickNatureSculptureWalk Brunswick Heads NSW (Sept)
Go Figure:Works from the collection Tweed Regional Gallery (Oct 17-Aug 18)
Aorere Songlines Zatori. Collingwood NZ (April)
2017
Chandeliers & other Ocean Jewels Artpiece Gallery Mullumbimby (November)
A-Z the alphabet in Art  Tweed Regional Gallery (June 16 – July 17)
2016
Oui, Si Sea Private group exhibition Coorabell (March)
2015
Brunswick Sculpture Walk Outdoor Sculpture Exhibition. Brunswick Heads, NSW(Oct)
SWELL Outdoor Sculpture Exhibition.  Currumbin QLD  (Sept)
2008
Momentum Tamworth regional Gallery travelling exhibition (08-09)
2007
Prometheus Prometheus Foundation Merrimac QLD (May)
Tactile The Centre. Beaudesert Regional Gallery. QLD (Apr)
2006
Sculpture by the Sea Bondi, Sydney (Nov)
Waterhouse Natural History Art Prize South Australian Museum (Aug – Sept)
Precious Creatures Wagga Wagga Art Gallery (May – July)
Oceans 11 Lismore Regional Gallery  (March – April)
2005
Conrad Jupiters Gold Coast City Gallery (Nov – Jan 06)
BLAKE Prize for Religious Art Sir Hermann Black Galery.  Sydney Uni (Nov-Dec)
Waterhouse Natural History Art Prize South Australian Museum (/SeptAug)
artsCape Cape Byron Lighthouse Byron Bay (June – July)
Prometheus Prometheus Foundation Merrimac QLD (May)
New 7 Brenda May Gallery. Danks St Sydney (Feb-Mar)
2004
Conrad Jupiters Gold Coast City Gallery (Nov – Jan 05)
JADA Travelling exhibition starting at Grafton Regional Gallery
East Coast Sculpture Show Ballina (Sept-Jan 05)
The Nature of Plants John Gordon Gallery Coffs Harbour (Aug – Sept)
White Brenda May Gallery (April-May)
Casurina Sculpture Walk Casurina Beach NSW (April-May)
2003
Ocean John Gordon Gallery Coffs Harbour (Dec)
Woollahra Small Sculpture Sydney (Nov)
Waterhouse Art Prize South Australian Museum (July/Aug)
Directors Cut Tweed River Regional Art Gallery (Mar-May)
Winsome Rooms Winsome Hotel Lismore. (Jan)
2002
BLAKE Prize for Religious Art Travelling exhibition (Dec 02-Oct 03)
JADA Travelling, exhibition (Oct 02-04)
East Coast Sculpture Show Ballina (Sept-Jan 03)
2001
Parliament House Craft Awards Canberra (Sept – Dec)
Old Traditions New Ways Woollongong and Geelong (Aug-Oct)
2000
Alice Craft Acquistion Alice Springs NT (May)
JADA Travelling, exhibition (Oct 00-03)
Recent work :TAFE Teachers LRAG (Aug)
too weave Broken Hill City Art Gallery (April)
EPHEMERAL INSTALLATIONS
2008-2018
Approximately 1253 installations: lighthouse rainforest walk + beach, Byron Bay
2006 – 2005
Fortnightly gatherings for PAN at both the Pass and Wategos beach, Byron Bay (autumn and spring only)
2005
Fish and Loaves Main Beach Byron Bay (Easter)
2004
Fishing the River. Coraki Artsfest (Oct)
Save As. The Wreck Beach Byron Bay (Sept)
Crop Circles Byron Writers Festival. Beach Resort. Sunrise Beach (July)
The Trolley Byron Writers Festival. Beach Resort. Sunrise Beach (July)
The Trolley Main Beach during Splendor in the Grass. Byron Bay (July)
My Precious Byron Bay Community Centre during 48hrs of Visual Arts (July)
Save As. Clarkes Beach Byron Bay (June)
2003
Big Fish Tyagarah Beach (May)
Rocks and Circles. Sunrise Beach (Apr)
PAN gathering. Belongil Beach (Mar)
Driftwood Tyagarah Beach (Jan)
1999
Gathering '99 Beach installation Seven Mile Beach, Lennox Head (Aug)
PERFORMANCES
2002
Byron Bizarre Beauty Products. Byron Bay (duration 8hrs)
Inside a Happening at Lismore TAFE (duration 1hr)
PRIZES
2018
Highly commended Border Art Prize. Tweed River Art Gallery, Murwillumbah
2015
Peoples Choice Brunswick Sculpture Walk, Brunswick Heads NSW
2006
Winner Border Art Prize. Tweed River Art Gallery, Murwillumbah
2005
Second Prize artsCape sculpture Prize, Cape Byron Headland, Byron Bay
2003
Liverpool City Arts Prize – Sustainability Prize
2002
TAFE Prize East Coast Sculpture Show
High Commendation Border Art Prize
2000
Winner TAFE NSW Fine Art Prize
PUBLIC COLLECTIONS
2008
Tamworth City Art Gallery
2005
Baker and McKenzie Sydney
Lismore Regional Art Gallery NSW
2004
Tweed Regional Art Gallery  NSW
Stanthorpe Regional Gallery QLD
2003
Liverpool City Heritage and Art Collection
Grafton Regional Gallery NSW
2002
Stanthorpe Regional Gallery QLD
2001
Grafton Regional Gallery NSW
2000
Tweed River Regional Art Gallery NSW
Residencies
2005
Tweed River Regional Art Gallery (9th Jan)
2002
Tweed River Regional Art Gallery (7th July)
2001
The Gunnery Studios. Sydney. (Aug – Nov)
COMMISSIONS
2018-2004
Over 60 private commissions for houses and businesses, QLD and NSW
2006
Greenslopes Private Hospital
2005
Byron@Byron Resort, Byron Bay
2002
Grafton Print Folio – Grafton Regional Gallery
VOLUNTEER WORK
2005
Exhibiting artist New Creatives Launch (April)
Arts Northern Rivers CASP Selection Panel for Grants
2005 -2000
Executive Committee/Exhibition Committee/Minutes Secretary for Professional Artists Network (PAN).
2003- 2002
Curator of 2 exhibitions at Lismore Regional Art Gallery (LRAG).
A paddock full of cows and chairs – Major exhibition for local emerging artists
One night stand; for Michael Reid – Exhibition of 20 local seniors artists.
2002 – 2000
Member of Arts Advisory Panel for Lismore Regional Art Gallery (LRAG).
2000 – 1999
Monthly co ordination and hosting of opening nights at LRAG
1999
Sole co ordinator of International Gathering of fibre artists and basket makers.  A one week conference of basket makers at Lennox Head.
Gathering 99 – Curator of a national exhibition open to Australian basket makers.
SELECTED PUBLICATIONS
2013
Plant Hunter online magazine written by Jo Immig
2005
Artlink vol 25 no 4 p36 –38 written by Marele Day
2004
State of the Arts mag Apr/Jun Art Now  p45. Image and article by Laura Murray-Cree.
Fiberarts Design Book 7 p118. International fibreart book published in USA.
Inside Out magazine p82 & 87 April issue.  Image and paragraph.
2002
Art in Australia. Paragraph in editor's introduction.
Coffs Harbour Advocate 20.6.02. Article on exhibition.
2001
The Canberra Times p10. 13.11.01. Two paragraphs in article by Meredith Hinchcliffe
1999
Artreach Autumn issue p12 & p34. Images and article for Gathering 99
1998
Periphery issue 37 p11, p12 & back cover. Images and article by Arlene Dalton
EMPLOYMENT HISTORY in the ARTS
2017
Basketry teacher at BYS Mullum Shack
Community Artist and presentation at Byron High School
Fibre art tutor Certificate IV art students Byron Community College
2017- 1996
Fibre art tutor for privately and publicly organised workshops and one on one sessions
2015
Fibre Art /Basket making Tutor at the Sturt Winter School Mittagong
2014
Basket making for film Gods of Eygpt
2013
Props Dept for film Unbroken(Anjelina Jolie Director)
2007
Indigenous Collaboration with Tjumpi Arts Collective NT through Gold Coast Gallery
2005 – 1999
Tutor of Bush Basketry for ACE Mullumbimby. 2-3 w'end workshops per year
2004
Community artist for Coraki Artsfest
2003
Tutor of Fibre Sculpture for Grafton Artsfest
2002
Tutor of Multiart for Kids for Grafton Artsfest
2000
Tutor of Koori Traditional Weaving at Lismore and Ballina TAFE
Tutor at Experience the Arts for Flying Arts QLD
1998
Tutor of Multiart for Kids for Grafton Artsfest
1997
Tutor at Institute for Indigenous Studies Lismore